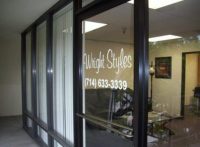 Are you a passionate hair stylist looking to take your career to new heights? Look no further! Wright Styles hair salon in Orange, CA is currently seeking a talented hair stylist to join the thriving team at our hair restoration salon. We have a vacant spot available for rent, providing you with the perfect opportunity to showcase your skills and build a loyal clientele.
Join Us and Unleash Your Creative Potential
At Wright Styles, we believe that every stylist has their own unique creative flair that deserves to shine. As a salon that values innovation and individuality, we encourage our stylists to express their artistic vision and create one-of-a-kind looks for our diverse clientele.
Why Choose Wright Styles?
Prime Location: Our salon is conveniently situated in Orange, CA, a vibrant and bustling city with a multitude of potential clients. With its rich culture and vibrant community, Orange is the perfect place to establish yourself as a sought-after stylist.
Professional Environment: Our salon is designed with both our stylists and clients in mind. We provide a comfortable and welcoming space where you can work your magic and make each client feel pampered and special.
Supportive Team: We understand that success thrives in a supportive and positive environment. And as part of our team, you 'll have the opportunity to collaborate and learn from experienced stylists who are passionate about their craft. Our team is dedicated to helping each other grow and succeed.
Space for Rent – Your Blank Canvas
Right now, we have an exciting opportunity for a passionate hair stylist to rent a spot at Wright Styles. This vacant spot provides you with a blank canvas to showcase your expertise and build a flourishing clientele. Just picture yourself creating stunning transformations, from trendy cuts to vibrant colors, all within the chic and modern atmosphere of our salon.
All the Necessary Amenities
Renting a spot at Wright Styles means you don't have to worry about the logistics of running a salon. We provide all the necessary amenities to ensure your success and enhance your clients' experience as part of our hair restoration services. Our salon is fully equipped with top-of-the-line styling stations, comfortable seating, high-quality products, and excellent lighting, creating the perfect setting for your artistic creations.
Be Your Own Boss
One of the benefits of renting a spot at our salon is that you have the freedom to be your own boss. Set your own schedule, choose your preferred products, and set your own prices. This flexibility allows you to prioritize what matters most to you and create a work-life balance that suits your needs.
Join Our Talented Team Today and Apply Now!
Are you excited about the prospect of joining a thriving salon that values creativity, professionalism, and growth? Then Wright Styles is the perfect place for you to elevate your career and make a name for yourself within the Orange, CA community.
If you are a passionate hair stylist with a keen eye for detail and a desire to provide exceptional customer service, we would love to hear from you. So take the next step in your career journey by contacting us today! We look forward to discussing this exciting opportunity with you!